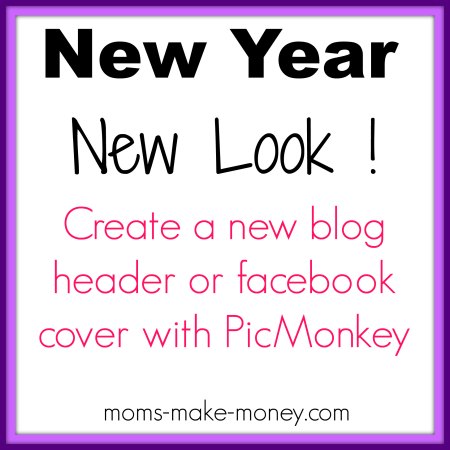 We all have New Year's Resolutions, but in the true tradition of self-improvement, most of them prove to be fleeting good intentions that simply take too long to achieve and are quickly abandoned. But there are some big changes you can make to your online appearance that don't require any crash dieting, and you can even eat chocolate while you do it. January is a great time to think about re-branding your blog, website or social media pages and today I'll be showing you how easily you can create a new header for your blog or Facebook page using PicMonkey.
PicMonkey is an online photo editing system, but it can also be used to design Facebook page covers, blog 'buttons' or side bar adverts, graphics for your blog posts and even the entire header for your website itself. They have a free version and a premium paid version which is only $33 a year for a much wider expanded range of services, graphics, fonts and more. For the video today, I'm going to use the free version so you can see just how well you can do without forking out any extra money.
In this video tutorial, I'll show you how I created a very simple Facebook page cover to showcase my monthly free sewing patterns on my site at So Sew Easy. I'm certainly no great graphic designer and have no eye for color, but by creating something simple for my page that can be changed out regularly, it gives me an opportunity to get this in the Facebook news feed for my followers with a nice big graphic each month.
Still not sure about doing this for yourself? Then there are of course plenty of other options where for just a few dollars you can get a professionally designed logo, header or banner. Try out the helpful folks at Fiverr for a $5 design, or the professionals at LogoNerds for their Crazy Custom WordPress Headers at $17 with lots of other logo and design options at bargain prices.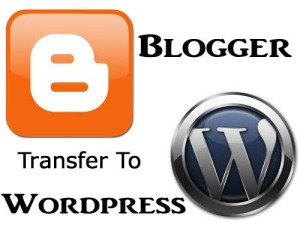 One of the major improvements you can make to your site for the New Year is to make a change in your blogging platform. If you are still using Blogger, it's time to think about getting serious with your site and make the switch over to WordPress for all of the benefits that brings. Did you know that your content, site and posts on Blogger is not you own and can be shut down by Google at any time? Years of work and all of your followers could be lost overnight. I know this only too well – it happened to me and you can read about it and see comments from other unfortunate bloggers at My Google Horror Story.
But making the switch from Blogger to WordPress can be difficult and scary. You will either need to carry out extensive research and planning to do this yourself or pay someone else quite a lot of money to do it for you. Thankfully now if you are still on a .blogspot.com domain, there is a third option. The Moms Make Money DIY Blogger to WordPress E-course has all of the research done for you and is split down into quick and simple to follow steps. Each lesson includes a real-time step by step video tutorial so you can follow through the whole process on a real site and carry out the same steps for your own.
Click on over and take a look at what's covered in the DIY Blogger to WordPress E-course. I've started right at the beginning and carried on right through to the very end of the process, making sure your content, posts, pages, followers and search engine traffic all come across to the new site with you. You'll also learn how to use the basics of WordPress along the way so you can be up and running right away.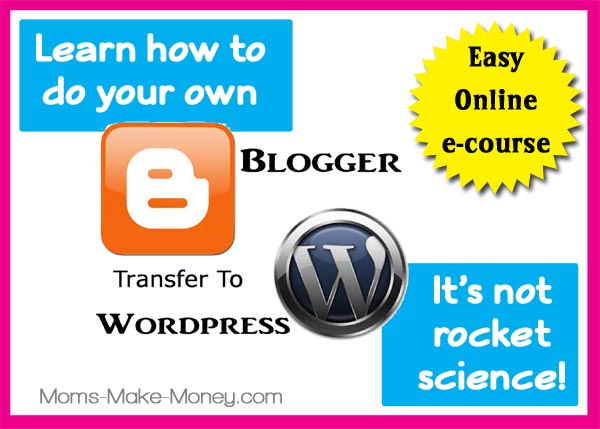 The course is already great value but great value isn't good enough – I want to give you AWESOME value. So there's a 50% discount for CreateHype readers making the course just $18.50.
Enter the code CREATEHYPE at checkout for your 50% discount.
In addition, I'm giving away a free course for one Create Hype reader. Simply enter on the Rafflecopter below for your chance to win. Good luck to you all.
a Rafflecopter giveaway

Terms and conditions: Giveaway closes on 31 Jan 2014 at 11.59pm. Winners will be selected at random by Rafflecopter, all entries and entrants have an equal chance of winning. Winners will be notified by email and have 3 days to respond. There is no cash equivalent. This draw is in no way sponsored, endorsed or affiliated with any of the external websites such as Facebook or Twitter. Giveaway open to all participants. If you buy the course and then win the giveaway, you WILL receive a refund.