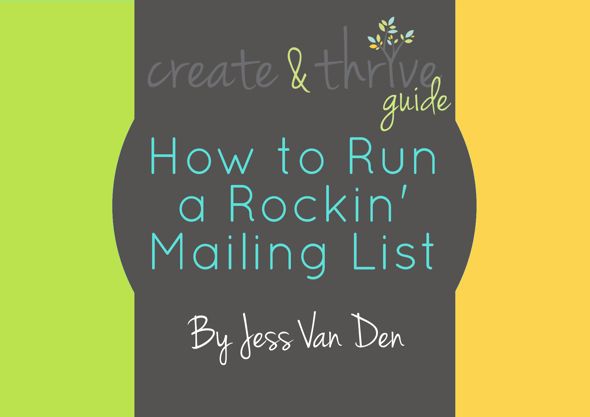 For marketing your creative business, there is no better tool or strategy than building an email list. That's why I'm thrilled to review How to Run a Rockin' Mailing List by Jess Van Den today. Jess says …
If you run a business –

especially

an online business – you need a mailing list.

So many people hesitate over starting and running a mailing list because they:

~ Don't know how to start
~ Don't know how to get (and keep) subscribers
~ Don't know what to write about
~ Don't know how to make money from a list
~ Don't believe a mailing list is important anymore thanks to the prevalence of social media

I'm a huge fan of social media, and it should be an integral part of your marketing efforts, but NOTHING is more powerful than having permission to access someone's inbox.
This e-book is a step-by-step guide to building an email list. If the set-up and mechanics of starting a list overwhelm you, then this is the tutorial you've been waiting for!
From how to choose a service provider (you need one!) to how to create an opt-in form (you'll want one!), How to Run a Rockin' Mailing List has everything you need to know about building your list. After the initial set-up, Jess goes on to cover frequently-faced dilemmas, such as, how often you should post and what you should say to your subscribers. She offers a full page worth of content ideas to keep your updates coming.
I loved Jess' instructions because she has a multi-faceted business. Therefore, she discusses both the blog side of building a list as well as how she attracted subscribers to the list for her online jewelry business.
This is my favorite kind of read: short, sweet and straight to the point. How to Run a Rockin' Mailing List is 38-digital pages chock-full of the topic at hand. Be sure to check it out!