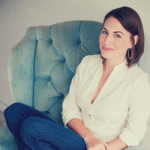 Laura Simms is a blogger, coach, and the writer behind Create as Folk. (Click here to read an exclusive Create Hype interview with Laura.)  If you love self-improvement, personal exploration and growth exercises, then hold onto your hat! I have the workbook for you! It will help you identify what you want from this one wild and crazy life, and what unfinished business is holding you back from achieving all that you desire.
Today, I'd like to offer my review on Laura's e-program, Roadmap to Action – the you-sized guide to charting your course. Here are the details:
Roadmap to action is a course on how to identify your career values and determine what matters most to your bottom line. It's an action-filled 61-pages of reusable worksheets, guides, and perpetual planners. Laura says,
You know those successful creative entrepreneurs you admire? The ones who are always doing interviews, writing great blog posts, creating courses and products, going to conferences, and it seems like a billion other things? You know, the ones who are leading their industry?

They're not better or smarter than you. (Or have mutant DNA, as I once suspected.)

They just know how to work better and smarter.
I could not agree more. I believe that achieving your goals and surpassing your wildest dreams is 100% doable, and programs like Roadmap to Action are the key to making it happen. It's simply a matter of identifying what you really want from your career and what actions will move you directly toward your desires.
I spent the last few days with my Roadmap, and it helped me to fill in the gaps and specifically name what it is I hope to gain in exchange for my business hours. In order to build and grow into the life you want, you must feel it and be able to thoroughly envision it in your mind's eye. This program helps you do just that.
One of the most useful sections in the book was "Dealing with Detours." I like going into the New Year set-up for success, and my current focus is clearing up all unfinished business. You never want to start a new year playing catch-up, which makes this season such an important one for reflection and review.
Laura says, "Putting your agenda first is a skill." She asks that you identify all of your time "bandits" – all those productivity thieves that get you whenever you're procrastinating (Facebook, mindless internet-clicking, YouTube-surfing, etc.). This is such a helpful exercise because identifying your procrastination habits enables you to build guard-rails against them. Laura walks you through this process in a fun and easy exercise. Now, she says,
I'm working with myself instead of against myself.
I loved every bit of working through what's working and what's not working in my own career following Laura's prompts. However, my very favorite part of the program were the perpetual planners. They're the gift that's going to keep on giving for years to come!
Among my favorite worksheets were the Task Filters (where Laura instructs you to file your to-do list under three categories: Urgent, Opportunity, and Income Generating), the Yearly Overview, and the Business Focus Planner (this one takes the cake for me!). They're absolutely brilliant.
Overall, there are thirteen reusable planners to help you reach your goals. The book is amazing and affordable, and I highly recommend it. Thank you, Laura Simms, for helping me make things happen!
If you're finally ready to get real about the distractions and obligations holding you back, don't delay! Download your copy of Roadmap to Action today!