I am over the moon to share this interview with you!  Piper Tate is a husband and wife duo who make the most amazing skin care products.  Eco-friendly, handmade, and beautifully packaged, their work is so professional I almost didn't believe it was made by such a small team (their family)!  Valerie of Piper Tate has some amazing advice for all entrepreneurs and also goes in-depth into the struggles their company overcame to get where they are today!
In case some people don't know about your husband and wife, skin care company, Piper Tate, would you mind giving them a little peek into what lovely things you create?
When we first started Piper Tate, it was a high-end gift company specializing in custom
corporate gifts. Some of them were spa packages so I began researching the ingredients,
and the amount of chemicals being used was shocking — particularly in the baby products. Having been a professional chef (my husband Bill) and a costume designer (Valerie, that's me), we tapped into our food science and design skills to create an eco-friendly line of luxe, botanically infused body products with the idea that what you put on your body goes in your body. We offer two body care collections: Piper Tate, the Spa line and Baby Tate, designed specifically for little ones.
Everything's handcrafted and we try to use local, organic and fresh ingredients whenever
possible. We don't use sulfates, parabens, synthetic dyes or fragrances. We prefer gentle and nourishing ingredients such as jojoba oil, vitamin E, mango and shea butter. Our products are a great option for people with sensitive skin as well as young children. Everyone, really.
Skin care products represent a competitive market.  How did you brand your work to stand out? 
Our niche is eco-friendly, natural, and chic body-care collections and gifts from a family run business. It's as much a reflection of who we are as it was a conscious marketing decision. So in that way, our branding evolution was a fairly organic one in that we created what was intuitive to us: our taste, beliefs, what was truly authentic to who we are. Our eco-friendly branding "ah ha" moment happened when we attended the San Francisco Green Festival, in the very beginning of Piper Tate's transition from gifts to our own brand. It was exciting to see so many companies facilitating eco-friendly and socially conscious business practices. At this one event we met all the people and companies who provide our infrastructure today.
We've also had so much reinforcement along the way that branding our company this way
just makes more and more sense. We love that our web hosting company is 100% wind
powered. Our mindful green Merchant Service provider facilitates our practice of profit-
donation to organizations that make the world a better place and with whom our family can be actively involved. On a more personal level, our products have provided long sought after relief for our daughter's eczema. Our branding is just: us.
Besides just toting the brand of eco-friendly, my personal mantra for Piper Tate is make it pretty. Having been a stylist and costume designer, I love the process of creating a look and feel for each product or gift in our collections. I share our customers' desire for handcrafted body care that's pretty enough to keep on your counter. My personal style has always involved some element of vintage, components from nature, and a lot of flea market decor. I also believe great photography coupled with a clear vision of your branding is crucial. I'm grateful to work with our friend Marcus Lam (marcuslam.com) who's shot our products since the beginning. He's very gracious about my abundant use of props and obsessive styling….
My philosophy is that every order we send out should look and feel like a thoughtful and
intentional gift; wrapped, pretty, and always with a little surprise enclosed. So every order comes with a sample of soap, a little bottle of lotion or whatever we're stirring up. As far as I'm concerned, it's not just an order being shipped out; it's a customer experience I'm informing. I love that our luxurious, handcrafted gift might make someone's day brighter. This is our most important way of honoring our customers and promoting our work.
What is it like working with your spouse?  Do you have any advice for other entrepreneurs considering such a partnership?
As long as Bill and I have known each other, we've always had something collaborative
in the works.  It began after college with our Holiday gifts for family and friends; Me:
decoupage gift boxes filled with Bill: artisinal dark chocolate truffles.  Bill: hand-poured
candles, with me: Barbie body parts thrown in for "textural interest." (Surprisingly, not as popular as the candy.) And then, a catering company for film and TV, which was a dream job; cooking, styling, being part of a tightly knit community with the bonus of working together. Years later, Piper Tate has the same feel, in that we're building lasting relationships with other artisans while working together in a creative and productive way.
I think the best part of working together is that we each bring very different skills to the
table. Bill is our sole formulator and all around capable person. He's fascinated with the
science of cooking and formulating and isn't focused on creating the visual look of our
brand. He's also very socially capable and fabulous working our booth at shows (I'm a bit
more shy). He's personable, loves engaging people about their skin, and educating them
about our products. My job is to put all the components together in a comprehensive
manner: packaging, branding, product development, etc. I love working with everything
visual and textural; packaging can speak volumes about what's inside (or not!) and it's that language that I am interested in.
Oops, I haven't specifically addressed your question yet. I think working closely with your spouse can be enormously rewarding if you're both clear about your expectations and you respect each other's skills. Bill and I lucked out in that he likes to jump into a project and just do it, a man of action. I on the other hand, will research and read endlessly, whether it's an article on the latest bevy of anti-oxidant botanicals, the new DesignSponge book or a business tome.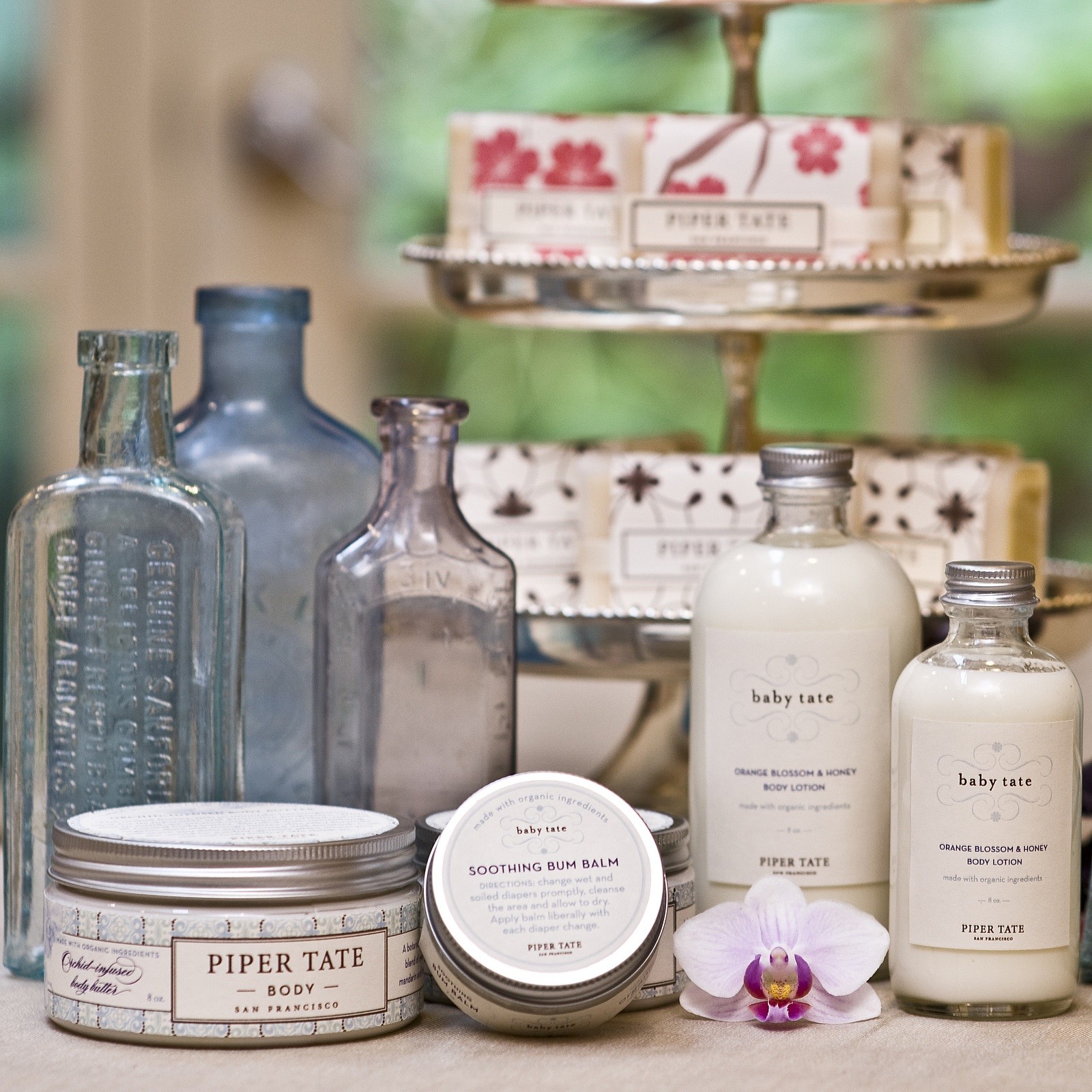 Your packaging is gorgeous!  How much research goes into each product and its packaging?
Thank you!! This kind of research is probably one of my favorite things to do. I'd spent
many hours at the San Francisco Gift Center in all the bath and beauty showrooms. I had
already been buying products for my gift business so I had an idea of the variety of product design that was on the market. Ever since fashion school I've always used design boards, so I created two distinctly different design stories for the Piper Tate and Baby Tate line including patterns, colors, textures anything that resonated and created a complete vision of the two collections. Piper Tate evokes a fresh, modern spa feel while the baby line has an almost apothecary, clean, organic essence. Although they're very different they can sit next to each other on a shelf and be cohesive and complementary. My friend and uber-talented graphic designer Sarah Caplan (mphdesign.net) has been instrumental in building Piper Tate's visual brand. Hours and hours we've spent drinking tea in front of her computer comparing fonts, colors and layouts. She's amazing! We'd go on outings to The Gardener, a luxe yet rustic home and garden store in Berkeley, to drool over their luxuriously chic body care lines. Their display is so sublime and elegant. We even brought in a few mock-ups to put on the shelves to see if they held their own.
Ironically, a year or so later The Gardener in Berkeley contacted us with interest in Piper
Tate after hearing our body butter was well received by those who work with their hands
(chefs, gardeners, artisans and medical professionals). A key component is that there is no
greasy feel after using it, for one may be picking up a knife or a trowel. When our product
went in their store we were overjoyed!
You have come such a long way since you opened in 2009.  At any point were you or your husband worried it wouldn't work?  And what helped you push on to get where you are today? 
Oh absolutely, on many occasions! When the financial market collapsed in August of 2007,
Bill's day job imploded, as did my corporate gift business. We'd been quietly formulating
and developing the Piper Tate and Baby Tate lines in the evenings. With our jobs essentially vaporizing, we immediately cranked up the volume by signing up to sell our products at a variety of craft and trunk shows to get immediate feedback from our customers and to see if we were on the right track. Since the beginning, Etsy's also been a phenomenal resource for Piper Tate, in terms of marketing and acquiring wholesale accounts. I signed up for every Etsy related newsletter, blog or article to learn all aspects of our industry.
We always have a solid holiday business, but for the first couple years, our sales dropped
off a cliff after January 1st. I'd panic and try all kinds of things, generally to no avail, and end up feeling alone. I was sure there had to be others in my shoes, but I didn't know where to find them. Then I discovered and joined the Indie Beauty Network, whose founder Donna Maria Johnson educates and nurtures the Indie Business community so that the members can focus on networking and thriving. Through IBN I learned of an upcoming Handcrafted Soapmaker's Guild Conference. Bill and I spent an action-packed week networking with other Indie beauty biz owners and learning about trademarks, social media and soap making.
We finally found our people.
I think our business thrives today because of the talented community of people that support Piper Tate. It definitely takes a village to get it all together. As our business grows, so does our support system. Our friends and family have been there since day one, cheering us on, helping tie ribbons, packing boxes, giving feedback on designs, products and photography.
You'll definitely want to check out the Piper Tate website to get inspiration for your own site, packaging, and maybe even some holiday presents!