I am sure we all know the power of testimonials for our businesses. They…
Offer social proof
Add credibility to your offering
Build trust
But the real power of a testimonial comes when someone can put themselves right into the shoes of the happy customer, can imagine themselves feeling the exact same way.
And that is where many attempts at sharing testimonials fall flat. A simple written testimonial is better than no testimonial at all, certainly. But it can be very hard to visualize yourself as the happy customer, when there is nothing visual about the testimonial.
Consider this testimonial:
Each and every single time I read something you write, converse with you via email, or have the pleasure of a face-to-face Skype chat, I see just how much you care about me…about my business…about my success. You pour everything you have into your work…the action plans you've presented to me after our sessions have been the most comprehensive plans I've seen yet. I truly believe your genuine character make you a stand alone in the business world! Thank you for being my "Go To" person for all of my business questions. * Melissa
This is a great testimonial; it is sincere and heart felt. However, it kind of looks like most other testimonials that are written about business mentors, so it doesn't really make my business stand out at all.
Have a look at it again when paired with a photo of my gorgeous client along with her business logo.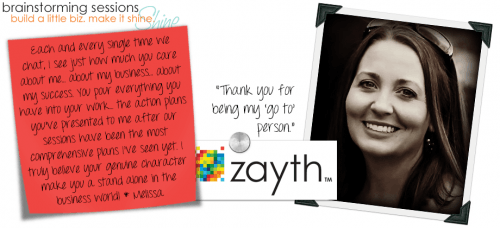 This testimonial feels more tangible, more real. You can imagine the client writing that note to me. You can see that she is a real person with a real business. And the fact that she called me her go to person really stands out, is the thing that is left in the reader's mind. It is also branded with my business name and colours – so when a visitor walks away from reading it, the testimonial itself is paired with my brand (not accidentally paired with some other similar business the reader has visited lately.)
Turning your testimonials into images can be a fantastic way to make them resonate with your audience. Plus they are highly sharable – this is something I could easily post on Facebook, pin to Pinterest, tweet, or email. Plus if I feature my client (and her business logo!) on my social media sites, she might just share it as well! (After all it feels really nice to be thanked publically by the businesses you deal with. doesn't it?)
How can you turn your testimonials into images? Here are three ideas for you:
1. Ask your clients to send in their photos: of your product being used or worn, being on display, being unwrapped and enjoyed. You could even set it up as an Instagram or Pinterest challenge – make it fun for them and offer them some thanks in return for participating.
2. If you don't have a physical item that can be photographed (perhaps you offer a service or your expertise) don't let that hold you back. Perhaps clients could Instagram "what life waslike before & after" your service.
3. You can also find your own images to go with the testimonials you have been given. Try pulling out one word to describe how your customer feels and pair it with a stock photograph that evokes the same emotion. Or even simply add a photograph of your customer to their statement along with some of your business branding.
The key is to make your testimonials tangible, memorable, and authentic. Help people imagine exactly what it is like to do business with you – how it will feel, what emotion they will experience, how their problems will be solved. Help them to feel comfortable buying from you! And the fact that you can brand your to testimonials to match your business, and then easily share them online… even better!
Want to learn how to make testimonials like the one above or just want to add more visual marketing to your business?  Karen's course, Visual Marketing DIY, launches next Monday!  Check out our review of it HERE.