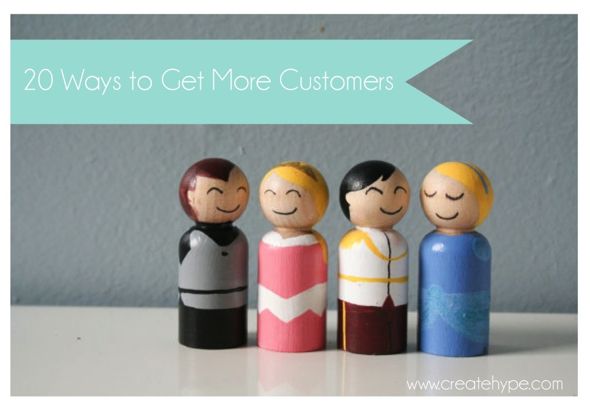 More customers — the Holy Grail of every company. We are always looking for ways to get more customers — and the key part is to make sure that you are targeting your efforts where your ideal client hangs out — both online and offline.
Ideally you have identified your ideal client, which means you know where he or she is…and just need some more ideas on how to reach them. And have I got some! Read on for 20 ways that will help you get more customers by reaching them in new ways.
1) Blogging: You hear about this tactic a lot and it's one that seems time consuming, but I definitely believe in the power of blogging. The environment online today means that people expect that experts will impart useful information — for free. Seem silly? It's not! Providing free useful and valuable content builds up your expertise and the "know, like and trust factor," which means that people feel more comfortable doing business with you. I recommend that you make the most of SEO by using a self-hosted platform like WordPress.
2) Video: Nothing can make your message more personal than using video. Offering a set of free training videos on YouTube is a great way to show your personality and share your expertise.
3) Webinars: By putting together a free training webinar, you have the opportunity to really provide value to your audience by interacting with them in real-time. Most webinar platforms allow you to take questions so your audience feels as though they are involved, and you know that you are really meeting their needs. You can also archive the training and offer it over and over.
4) Audio: An audio training is just like a webinar — without the picture! These are a great option for your audience to be able to take your expertise on the go, whether they are in the car or on a walk.
5) Email, Email, and Email: This is a fabulous medium for reaching your audience with a message that they can save, forward and interact with via links. The trick is having a good email list. My favorite way to capture people's emails is to make sure you have a juicy enticing carrot for your opt-in clearly visible.
6) Open Office Hours: What could be better than being available to your customers to have a dialogue? Even though you probably encourage your clients to call you anytime, if you do lots of business virtually, sometimes you have a long list of people seeking your expertise — for free! Sure, you want to give away what you can to build your reputation, but if what you sell is your time, you can't give away too much customized advice for free. Offer your potential clients a taste by establishing regular "open office hours" where you offer your expertise to anyone for a free 10-minute (or whatever timing seems right) call. This "sample" offers a great chance to have them become paying customers.
7) Speaking Gigs: Want to reach potential clients in a local environment? Find out if you can speak at a meeting of a local Chamber of Commerce or industry group. It's a great way to meet potential customers face to face. You can usually get a list of not only everyone who attended, but also all the members, which gives you a built-in mailing list.
8)  Use a Pop-Up.  There I said it.  I know. I know.  I used to hate them, but they work!  Experiment with settings using Pippity or Pop up Domination.
9) Social Media: We all know that social media is the top way to reach your clients all over the world. Find out where they're hanging out (Pinterest? Twitter? Facebook?) Then make sure you are active on that platform, interacting with your followers and posting useful content they'll want to share.
10)  Hold an Event: Get creative! For example, if you are a jeweler, hold a themed trunk show at a women's clothing store to cross promote. Similarly, find a complementary website where you can partner up and hold a virtual seasonal slideshow or event highlighting the newest trends. Share contacts and post all over social and to your email lists.
11)  Guest Post: Like blogging, guest posting on a popular blog can establish your expertise to a new audience. Find a blog that reaches your key audience and reach out with a concrete idea of a post that will be of use to their audience. Focus on them, not you!
12) Tell a Friend (and Family!): Sometimes we forget to share with your own social circles and who knows what can grow from that "low -hanging fruit?" Not only might they be interested in your service, but they are liable to pass the word on. Referrals are like pre-sold customers!
13) Get Reviews and Testimonials: Consistently! Reviews are more and more important in Google's eyes, but you don't want to dump them all out on the webosphere at once. This may appear as "spam" to Google's bots that rank your information.
14) Use Direct Mail: Seem old fashioned? Think of it as being retro! At only 34 cents each, a postcard can help you stand apart from everyone who is online. Worried about the environment? Use recycled paper and make sure you highlight that in your direct mail piece.
15) Show Up!  Be there, at the same time and the same place, at whatever platform or venue you choose. This consistency lets your prospects know where and when they can find you, and even more importantly… that you are reliable and trustworthy and will be there.
16) Own It:  Be "Profesh" says Marie Forleo, who is one of my big marketing mentors. This means making sure you have a proper email address — yournickname@hotmail just doesn't cut it! A lot of people don't use business cards anymore, but it's still a great way to share your information. It can help people remember where to find you, and can go a long way in getting the conversation going, too, if you have good branding.
17) Branding: Speaking of- be consistent in your branding across platforms so your audience can identify you quickly. Find a logo and name that you use wherever you are.
18) Website Presence: Double-check that your online footprint is putting your best foot forward Make sure your site is clean and easy to navigate, loads quickly and is responsive in design, whether someone is accessing you on their desktop, or more commonly these days, on their smartphone or tablet.
19) Calls to Action. Make sure you are clear each time with saying exactly what you want the end result to be, the action you want your customer to take. Do you want them to visit your website? Share your content? Book a session?  Purchase an item before the promotion ends?
20) Love Your Customer. This might be the most important one! Don't forget that your best customers are your existing customers. Common wisdom says that it costs ten times more to get a new customer than to keep an existing one. Not only are they are more likely to purchase from you again, but they are most likely your best fans and most outspoken brand ambassadors. So even if they aren't in a situation to buy from you, they can help fill your referral pipeline. And, as discussed earlier, referred customers are basically pre-sold customers.
And there you go! Twenty awesome things to try to reach your ideal customer – wherever he or she may be!
Online Marketing Consultant Laura Wallis is "Web Navigator Gal," on a mission to help dynamic, up and coming entrepreneurs navigate the world of online marketing so they can get noticed and grow their business. You can reach her at 1-858-859-1411 or visit her website at www.webnavigatorgal.com for all of your marketing needs.
[Image credit: OliverandKate2 on Etsy]